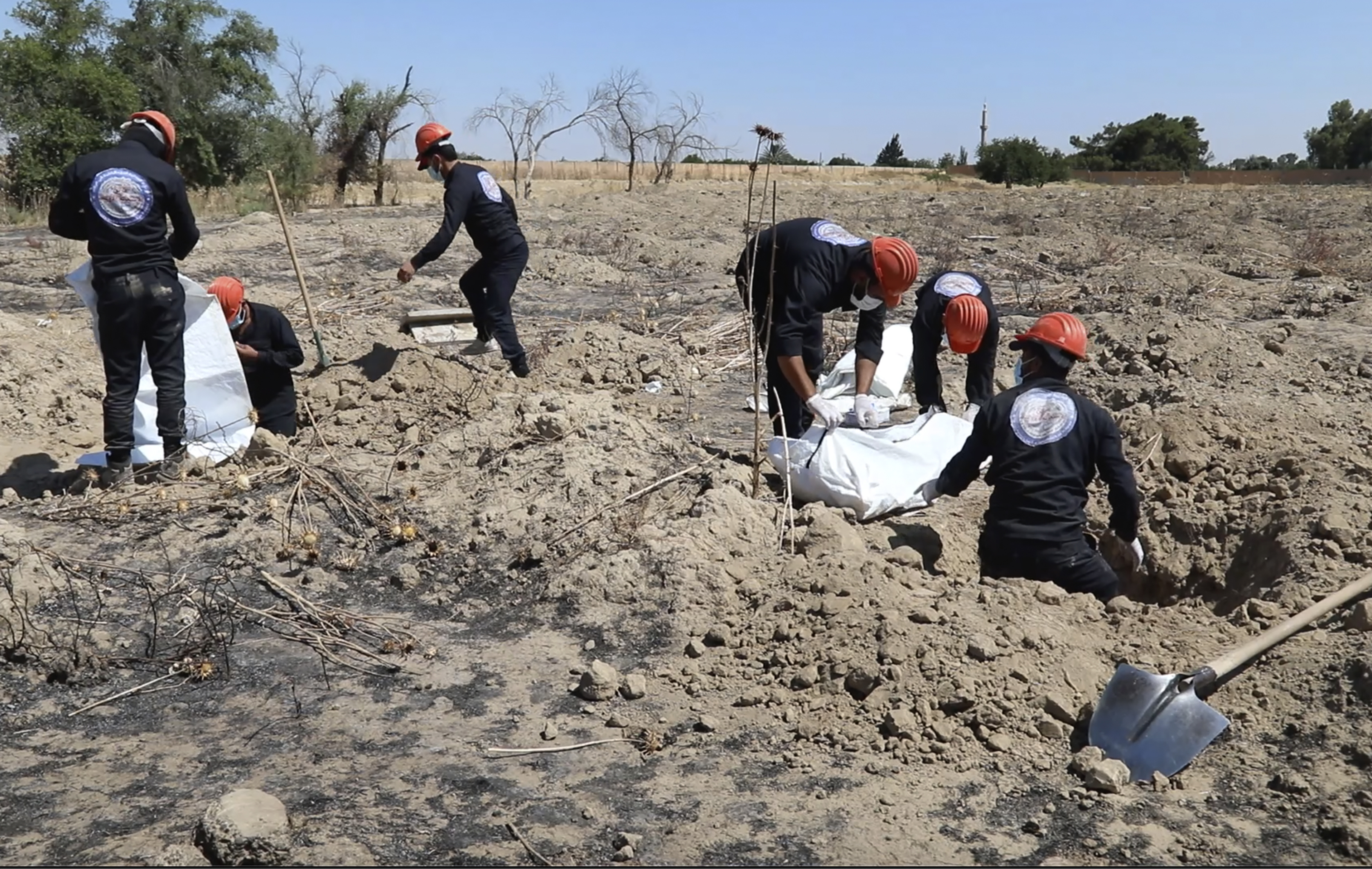 Common pits are still being dug in Syria, which are full of victims of President Bashar al-Assad's regime, a man known as the "gravedigger" who was heard on the Syrian conflict told US senators.
Dressed in black from head to toe and with his face and head completely covered, the gravedigger spoke of the horrors he witnessed from 2011 to 2018, while working at mass graves in Syria.
He managed to flee the country in 2018, but said he kept in touch with other Syrians who later fled and told him that mass graves were still being dug. The man gave the statement through a translator.
The Syrian war has estimated that 400,000 Syrians have been killed, according to the United Nations, and millions more have been displaced by the conflict.
Prior to the war, the gravedigger worked as a local government employee in Damascus, but in 2011, regime security officers came to his office and ordered him to work for them.
"When the regime demands something, you don't say no. I wasn't prepared for these horrors," the gravedigger said.
"Every week, twice a week, three trucks with trailers came full of 300 to 600 bodies of victims who had been tortured or killed in bombings. Twice a week, three to four vans came with 30 to 40 people. the bodies of civilians executed in Sednaya Prison, "he said.
After fleeing Syria, he testified before a German court in Koblenz about the horrors he witnessed.
"I am saddened to learn that so many people are being tortured by the Assad regime at this time. I know exactly where the corpses are piled up in mass graves that are still being dug today. they confirmed what I had heard, "he said.
The gravedigger claimed that the longer the war lasted, the longer Assad was in power, and the stronger Putin would be. "We must learn from the lessons of the past and not let these situations happen again," he added.
Although he was alive, he was bulldozed
The gravedigger recounted the horrors he experienced while working at the mass graves. He recounted a situation in which a man who was thrown from a trailer with other bodies moved, a sign that he was alive.
"One of the workers started crying, he said we had to do something. The officer who was supervising us ordered the bulldozer driver to hit him, and the driver could not hesitate, otherwise he would have been killed. He passed the man in the pit. and I killed the young man who cried, I never saw him again, "said the gravedigger.
He urged senators to take action. take action ".
CNN contacted the Syrian Foreign Ministry, but received no opinion on the matter.
Editor: GM
#Syrian #gravedigger #revelations #Common #pits #dug #Trucks #hundreds #bodies #tortured #Assad #regime #weekly